Thanks for printing! Don't forget to come back to Pinnacle Orthopaedics for fresh articles!

Foot & Ankle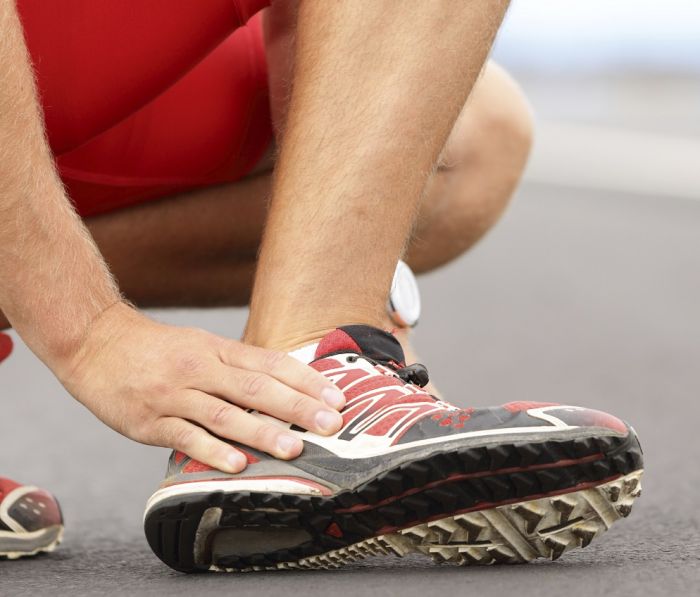 A foot or ankle problem can have a serious negative impact on your quality of your life. We take our feet and ankles for granted because every day they successfully bear the weight of our bodies to get us from A to B. But, we do not take notice of their health, until discomfort, or pain appears. Recent studies show that individuals with foot and ankle pain have multiple coexisting impairments, which not only affect the patients' daily activities but also the recovery time.
This is why our fantastic foot doctor emphasizes the importance of paying close attention to your foot and ankle health and seeking help when in doubt!
The foot and ankle: did you know…?
The foot and ankle is a strong and complex structure containing 26 bones, 33 joints and more than a hundred muscles, tendons, and ligaments. The foot is subdivided into three sections:
Hindfoot - composed of the heel bone (talus) and ankle bone (calcaneus)

Midfoot - the five irregular bones (cuboid, navicular and three cuneiform bones) form the arches of the foot, which act as shock absorbers. It is connected to the other parts of the foot by the plantar fascia

Forefoot - contains the five toes and their respective five proximal long bones forming the metatarsus. The big toe has two bones (phalanges) and the other four toes have three phalanges.
The ankle is the largest bone of the foot. The two long bones of the lower leg, the tibia, and fibula are connected to the top of the heel to form the ankle.
Considering that the foot and ankle structure supports the weight of your body on a daily basis - on some occasions even three, or four times your weight - it is no surprise how common foot and ankle injuries are. Research shows that 75% of Americans will experience some foot health problems in their lives. The most commonly experienced ankle problems include sprains and fractures, which depending on severity, require different treatments and recovery times. A sprain is an injury to the ligament, whereas a fracture refers to a broken bone.
A person can experience a sudden injury, such as a sprain, or develop a deeper condition like a bunion, or flat feet. Do you know how to spot a developing condition at its onset? Do you know how to effectively treat a condition with a minimized recovery time? You've probably heard a thing, or two here and there, but why waste time on things, which might not work for you? With the assistance of our ankle doctor, you can be sure that your condition is properly diagnosed and treated!
Our services
The objectives of our treatments are to provide pain relief, restore mechanics and return the patients to their desired level of activity in the most effective and efficient way. At Pinnacle Orthopaedics, our expert ankle surgeon specializes in the treatment of the 5 following conditions:
1. Ankle Sprains
The most common injury a sports medicine physician encounters, which can vary hugely in severity. Poorly understood by physicians, it is often left undertreated causing chronic instability of the ankle.

After the initial examination, our expert ankle surgeon will decide how severe the injury is. According to the analysis, he will prescribe you a non-surgical, or surgical treatment plan, including physical therapy, to ensure optimal recovery.
Bunions
The joint that joins the big toe to the foot is called the first MTP joint. When it becomes prominent and the big toe starts to become crooked this is known as a bunion. The most common cause of bunions is prolonged wearing of poorly designed shoes, like high heels, hence women are more susceptible to it.
Our foot doctor will closely examine your bunion and sign you up for one of four surgeries: arthrodesis, bunionectomy, osteomety, or a resection arstplasty. To learn more about the causes of bunions and the treatment, check out our bunions page.
Plantar Fasciitis/Heel Spurs
This problem usually occurs when part of the inflexible fascia is pulled away from the heel bone. This causes inflammation and thus pain. Plantar fascia injuries may occur at the midsole or towards the toes.
Following a thorough examination, the physician will decide whether you need surgery or treatment. Non-surgical treatments include physical therapy, medication, using arch supports, or simply rest with cold compresses.
Achilles Tendon Ruptures
A rupture of the Achilles tendon is one of the most devastating injuries, which a competitive or recreational athlete can suffer. Overall it is not very common, but it is much more difficult to treat.
Considering that for high-level athletes this is a career-ending injury, due to the long recovery period, our foot doctor focuses on educating the community about prevention. Regular stretching in the correct way can save you a lot of pain, discomfort, and treatment.
5. General Foot Problems
Pinnacle Orthopaedics strives to relieve pain and restore the patients' function with our treatments. Our Board-Certified Physicians work with patients to provide relief from the following conditions:
Bunions

Hammertoes

Flexible Hammertoes

Rigid Hammertoes

Curled Fifth Toe

Second Metatarsal Plantar Callus

Heel Spurs

Neuromas

High Arched Feet (Pes Cavus)

Flat Feet (Pes Planus)
To learn more about these conditions and about how our doctors treat them, take a look at our "Treatment for Foot Problems" page.
Find our foot doctor near you!
At Pinnacle, we utilize the most up-to-date technologies and surgical techniques to provide our patients with the highest quality orthopaedic care. We have Fellowship Trained Foot and Ankle Specialists who focus on issues from acute injuries to chronic problems. They diagnose musculoskeletal disorders of the foot and ankle including the bones, joints, ligaments, and muscles, and treat both non-surgically and surgically. Our Foot and Ankle team performs procedures, treats sports injuries and repairs trauma of the foot and ankle using the most advanced knowledge, treatment and methods.
We are one with the community. Not only do our doctors get involved in promoting awareness at numerous schools and sporting events, but they also provide exceptional orthopaedic services at 5 convenient locations. With offices in Canton, Hiram, Marietta (East Cobb), Marietta, and Woodstock, and a Surgery Center in Woodstock, you know you can reach our ankle doctor with ease.
If you still have any questions or wish to consult a member of our staff, please contact our headquarters:
Phone: 770-427-5717

Fax: 770-429-8520

Visit us at 300 Tower Road, Suite 101, Marietta, GA 30060

Make an enquire on our contact page
The material contained on this site is for informational purposes only and DOES NOT CONSTITUTE THE PROVIDING OF MEDICAL ADVICE, and is not intended to be a substitute for independent professional medical judgment, advice, diagnosis, or treatment. Always seek the advice of your physician or other qualified healthcare provider with any questions or concerns you may have regarding your health.
Common Conditions & Treatments
The Pinnacle Physicians that specialize in foot and ankle injuries and conditions.