Thanks for printing! Don't forget to come back to Pinnacle Orthopaedics for fresh articles!
BEAR Implant - Bridge Enhanced ACL Restoration
The ACL or anterior cruciate ligament is one of the most injury-prone ligaments in the knees. In fact, studies have reported that about 100,000 to 200,000 individuals sustain ACL tears every year in the US. This commonly happens to athletes engaged in strenuous contact sports, such as football, basketball, and soccer.
Unlike most muscle sprains, ACL injuries do not heal independently, especially if the ligaments get entirely ruptured. It can only be treated through surgical procedures like ACL reconstruction using tissue grafting.
However, this reconstructive procedure can have long-term side effects on the patient, such as increased knee degeneration and arthritis. Fortunately, there's a new innovative procedure that orthopedic specialists can now perform to treat ACL tears, and that's the Bridge Enhanced ACL Restoration or BEAR Implant.
Read on below to learn more about BEAR Implants and how Pinnacle's leading surgeon Dr. Jessica Bilotta performed this groundbreaking procedure at the WellStar Kennestone Hospital.
What Is the BEAR Technique?
The Bridge Enhanced ACL Restoration (BEAR) technique refers to a procedure used to treat ruptured or torn ACLs. This new, FDA-approved procedure serves as a much better alternative than traditional ACL reconstruction for its less invasive and less complex nature.
The BEAR technique works by using a medical device called BEAR Implant to bridge the gap between the torn ACL ends. The implant is a bovine-derived extracellular matrix that will help repair the ruptured ACL without requiring tissue grafts.
This procedure helps restore the native ACL through the combined method of suture repair and BEAR technique. Unlike the traditional ACL reparation, there's no need for donor tissues or autograft to completely treat one's ACL injury.
Patients can now achieve complete functional restoration without the consequences of traditional ACL surgery.
The BEAR Technique and the Treatment of ACL Injuries
The anterior cruciate ligament (ACL) is a band of thick connective tissue that runs from the femur (thighbone) to the tibia (shinbone). Its primary function is to stabilize the knee joint by securing the tibia to the femur, thus preventing tibial translation. Additionally, the ACL band also allows the knees' rotational movement and back and forth motion.
Most ACL injuries involve a complete or near-complete tear of the ligaments. This may happen when the knees sustain a direct blow, physical trauma, or repeated stress and pressure. Traditionally, doctors resort to ACL reconstruction (ACLR) to treat ruptured ligaments.
However, the Bridge Enhanced ACL Restoration offers a similarly effective yet less invasive procedure.
Here's how the BEAR technique treats ACL injuries and restore normal function within weeks:
Within eight weeks of implantation, the BEAR device will be absorbed by the body and replaced by new native cells and tissues that will eventually become the new ligaments.
Although newly approved, this procedure has been a groundbreaking addition to the medical industry. Our very own Dr. Jessica Bilotta had spearheaded the first-ever BEAR Implant procedure in Georgia. She performed the Bridge Enhanced ACL Restoration at WellStar Kennestone Hospital to help a 16-year-old high school level soccer player injured in the anterior cruciate ligament.
What is the Difference Between BEAR and ACL Reconstruction?
Traditionally, rebuilding the ligaments involves replacing the torn ACL bands with a tissue graft. Once the damaged ligaments are removed, the orthopedic specialist will drill the tissue graft (from a donor or your own tendon) into the bones to facilitate the regrowth of new ligaments in the area.
Although effective, traditional ACL reconstruction can have several adverse effects due to its complex procedure. Some of its known risks include the following:
On the other hand, the Bridge Enhanced ACL Restoration does not have these consequences since there's no tissue grafting involved. Instead, it utilizes an implant mixed with the patient's blood to facilitate healing while maintaining the ACL's original attachments to the knee joints.
Furthermore, the BEAR implant is an easy and reproducible procedure that can be used for different types of ACL tears.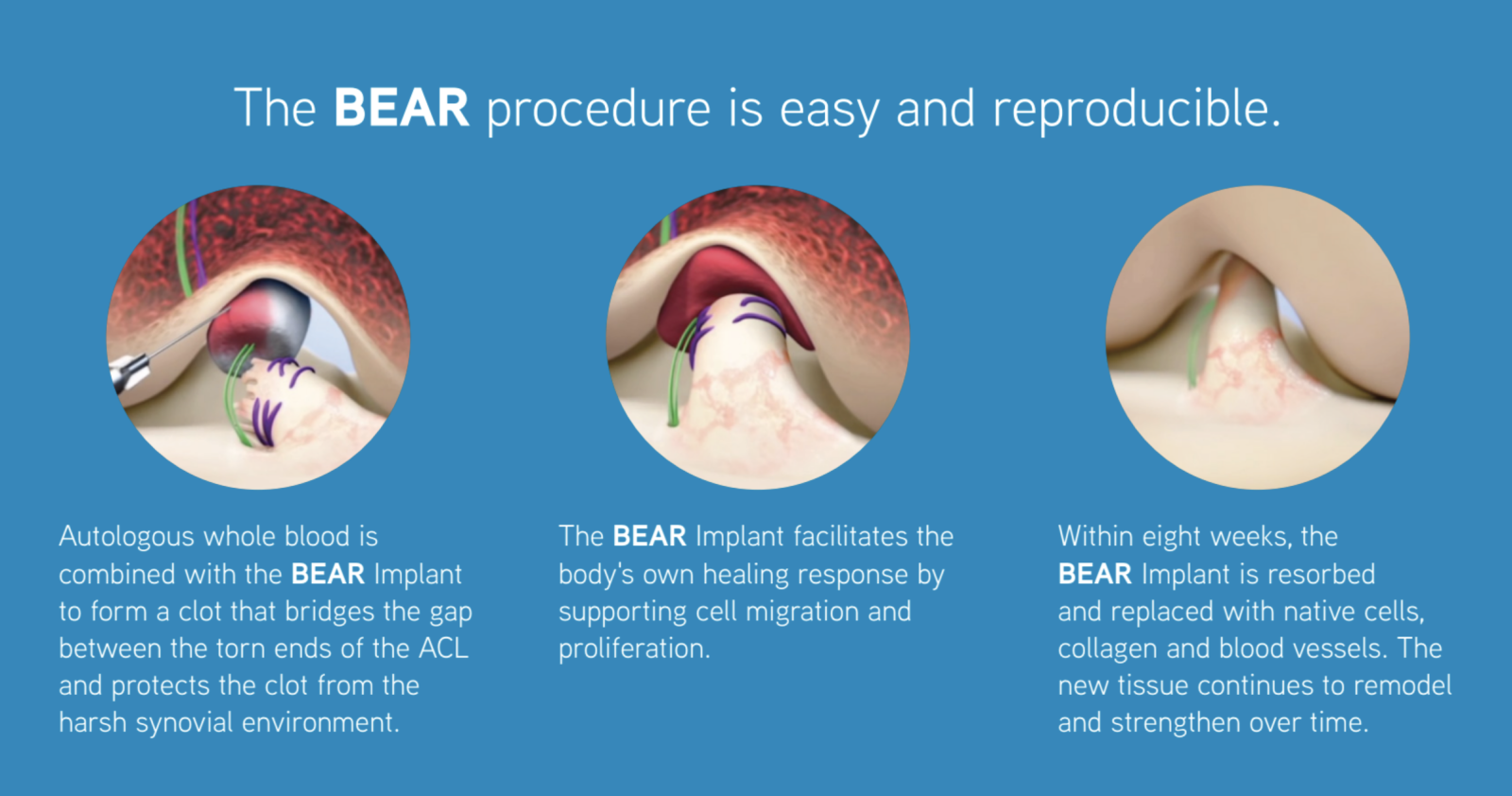 Is the BEAR Implant Better than other Treatment Options?
Both the ACL reconstruction and BEAR implant are effective methods in treating torn ACLs.
However, plenty of studies suggest that the BEAR technique yields more benefits over time than its counterpart. Here are some of its science-backed advantages:
Bridge Enhanced ACL Restoration at Pinnacle Orthopaedics
Looking for the best orthopedic surgeon near me who can treat your ACL injuries and restore your once active life? Well, look no further!
At Pinnacle Orthopaedics, we provide quality care using state-of-the-art techniques and innovative procedures so our patients can receive the treatment they deserve. Besides BEAR implants, we also offer several treatments and services for your knee injuries, from MACI knee surgery to robotic-assisted total knee replacement.
Our board-certified physicians are committed to bringing you the most comprehensive orthopedic care across our five convenient locations. Visit us now at:
Our orthopedic doctors use the latest technology and surgical interventions to provide only the best care for our patients. We value high-quality orthopedic care, so our surgeons are fellowship-trained and focus on a range of injuries and orthopedic conditions.
Contact us today to learn more.
The material contained on this site is for informational purposes only and DOES NOT CONSTITUTE THE PROVIDING OF MEDICAL ADVICE, and is not intended to be a substitute for independent professional medical judgment, advice, diagnosis, or treatment. Always seek the advice of your physician or other qualified healthcare providers with any questions or concerns you may have regarding your health.