Thanks for printing! Don't forget to come back to Pinnacle Orthopaedics for fresh articles!
Occupational Therapy at Pinnacle Orthopaedics
Our occupational therapy services at Pinnacle Orthopedics are provided to individuals with injuries, disease, and dysfunction of the hand and upper extremity. Our occupational therapists analyze a person's daily routines by studying the steps necessary to perform a task or activity, the performance skills required to perform the task or activity, performance or workflow patterns, activity demands, and the physical environment in which the person engages in his or her daily routines.
Who needs Occupational Therapy?
Occupational therapy (OT) aims to help people, regardless of age, who may have physical, sensory or cognitive difficulties because of an injury, illness, or disability. According to the American Occupational Therapy Association, OT practitioners help their patients to manage impairments and "live life to fullest".
This program usually entails interventions to help the patients recover and regain skills they lost following an accident or disease. It may also involve helping people with disabilities to thrive in school, employment, or social situations.
Occupational therapy may apply to people who have
Birth defects or sensory disorders

Developmental delays

Post-surgical conditions

Traumatic injuries and fractures

Learning impairments

Autism

Behavioral problems

Burns

Cancer

Chronic illnesses like rheumatoid arthritis, multiple sclerosis or cerebral palsy
Goals of Occupational therapy
The goal of occupational therapy is to help people with challenges to undertake basic activities. This way, they can regain some independence in their lives. Our occupational therapists in Marietta, East Cobb, Canton, Hiram and Woodstock help their patients overcome the physical, emotional, and social barriers of their condition. They will assist their patients in maintaining a good quality of life.
The process is also designed for patients to:
Reduce and control the cause and effect of their condition

Refine their fine motor skills so they can write, grasp objects or use gadgets

Improve hand and eye coordination

Master some basic skills in life like bathing, brushing teeth or getting dressed

Facilitate skills learning

Adapt to certain functions, which may be useful to their environment

Improve their well-being

Learn to use special equipment that may enhance their independence and reduce reliance on others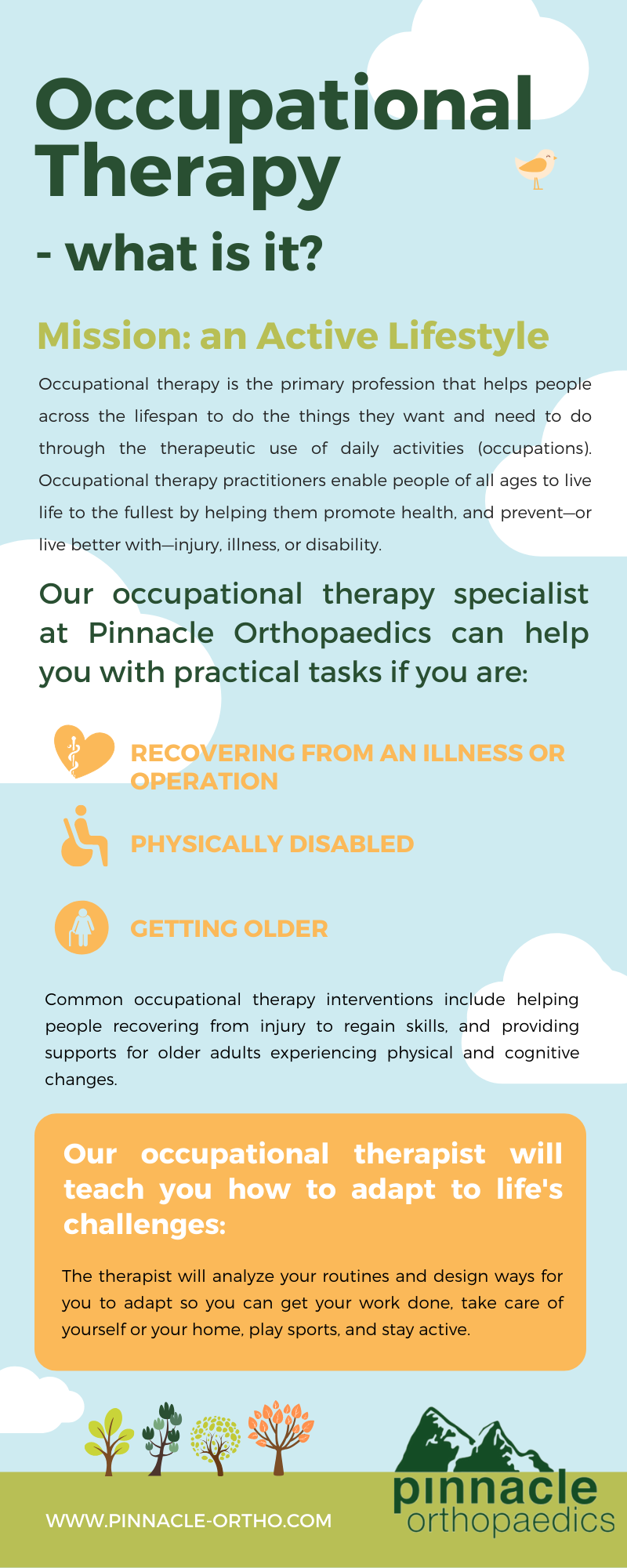 Qualities of a Good Occupational Therapist
Aside from earning a degree in occupational therapy, good OT practitioners must have a license to practice and an ongoing program to further their education.
Since OT practitioners work in various settings, the job may be physically and mentally demanding. According to the AOTA, they must have a holistic perspective in helping out their patients.
At Pinnacle Orthopaedics, we have a roster of qualified and experienced occupational therapists available at our Canton, Hiram, Marietta, and Woodstock offices. All of these locations have on-site rehabilitation facilities. These centers have full-service, outpatient orthopedic gyms, strength and aerobic equipment, and various other modalities. As long as we participate in your insurance plan, we accept referrals from family practitioners and orthopedists, as well as from the business community with occupational health needs.
Occupational Therapy vs Physical Therapy
Occupational therapy is more than just physical rehabilitation, which is what physical therapy is all about. While PT helps the patient restore mobility and endurance, as well as minimize the risks of the patient hurting himself by learning some proper movements, occupational therapy teaches the patient how to engage in routine and activities that will improve the quality of his life, regardless of his impairments.
By the definition itself, "occupation" means "an activity in which a person is engaged".
Some patients who need physical therapy may also have to undergo occupational therapy. The PT and OT practitioners at Pinnacle Orthopaedics often collaborate with each other so that the patient may fully recover and achieve the full potential of his capabilities under prohibitive circumstances.
Learn more about our Occupational Therapy
The Occupational Therapy Team at Pinnacle also includes Certified Hand Therapists or CHTs. CHTs are therapists who have a minimum of 5 years of clinical experience and 4,000 or more hours in direct hand therapy practice. These therapists pass a comprehensive test of advanced clinical skills and theory in upper quarter rehabilitation and demonstrate continued professional development and competency.
To contact Rehabilitation Departments at our various locations, please call:
Occupational Therapy Canton: 770-721-8160
Occupational Therapy Hiram: 678-453-5717
Occupational Therapy Marietta: 770-499-9918
Occupational Therapy Woodstock: 770-926-6520
You may also fill out our online contact form to make an appointment.
The material contained on this site is for informational purposes only and DOES NOT CONSTITUTE THE PROVIDING OF MEDICAL ADVICE, and is not intended to be a substitute for independent professional medical judgment, advice, diagnosis, or treatment. Always seek the advice of your physician or other qualified healthcare providers with any questions or concerns you may have regarding your health.