Thanks for printing! Don't forget to come back to Pinnacle Orthopaedics for fresh articles!

Justin Golden / Natural Height Reached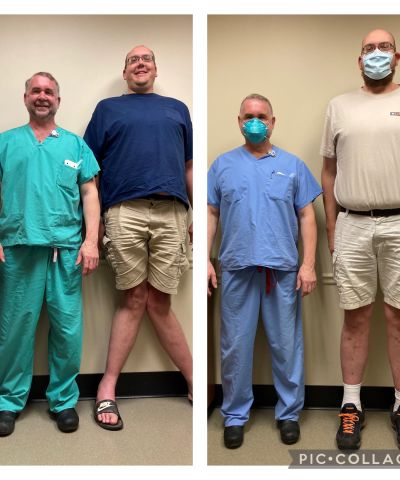 Dr. Terrell's patient Justin Golden
Natural Height Reached!
Justin Golden is a K9 Handler and Instructor for the State of Georgia's Public Safety Department. He trains the dogs to sniff out explosives and is assigned to the Capitol in Downtown Atlanta. He's also 6'9"! Well he was 6'9" with extreme knee pain and now he is at his natural height of 7' 1/4" and pain free thanks to Dr. William Terrell!
Justin is tall and has a tall family so being well over 6 feet was normal. What wasn't normal is for the last few years he had been in a lot of pain. He went to several doctors and then finally was sent to Pinnacle to meet Dr. William Terrell who specializes in orthopaedic trauma, limb lengthening and deformity correction. Dr. Terrell has extensive knowledge on the Ilizarov Technique used to correct abnormalities from growth, trauma, extreme orthopaedic injuries and open fractures.
Justin's diagnosis was Bilateral Knock Knees. There are several ways to fix this problem, but Justin and Dr. Terrell chose the external fixation procedure. This would straighten his legs and bring him to his natural height of over 7 feet. The technical term for the surgery was Bilateral genu valgum and lateral gonarthrosis. This required several surgeries for the lower and the upper legs. The surgeries were a success with rods and fixators placed in both legs. He had the fixators on for only 3 months and has completed 6 months of Physical Therapy.
And as you can see, the result is fantastic. Justin is back at work and doing very well! Justin says that Dr. Terrell "is great and definitely the best doctor I have ever been too. He cares so much about his patients!" Dr. Terrell says, "God heals, and I take the fee!" Dr. Terrell also credits his team saying that he has a lot of people around that make him look good but most importantly he says, "it was Justin and his gumption to do this. He did everything right!"
Looks like they both did everything right!