Thanks for printing! Don't forget to come back to Pinnacle Orthopaedics for fresh articles!

Casey Pickett/Double Leg Repair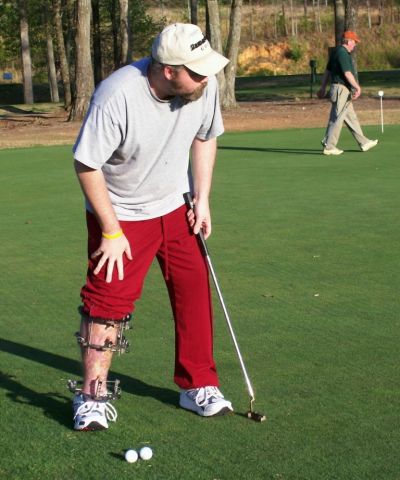 Dr. Terrell's patient Casey Pickett
The Whole Person Needs to be Treated, Not Just The X-Ray!
Casey Pickett was just 28 years old when a drunk driver hit him head on and left him with a brain injury, a broken pelvis, and two severely broken legs. He survived against all odds and was taken to Atlanta Medical Center. With both legs being broken, the hospital sought out Dr. William Terrell to perform his unique external fixation procedure on one of his legs. Then another doctor would repair the other leg with internal rods. This would allow Casey to have one leg to stand on with Dr. Terrell's external fixator. Dr. Terrell was given a one-day privilege at the Medical Center and went to work.
It took a year and a half for Casey to fully recover. When he was released, Dr. Terrell told him to go have a life! Nine months later, Casey came by to visit Dr. Terrell and he brought his newborn. This brought Dr. Terrell to tears! Dr. Terrell treats his patients like family and is so proud to see his patients succeed!
He asked Casey how he got through this mentally. Patients who have had traumatic injuries are often angry, frustrated and miserable. Casey said that at first, he was very bitter and depressed. He felt helpless. But then he said that his neighbor would take him to hit golf balls at the driving range. The neighbor told him he had to release his hatred for the drunk driver - that he was going to have to "get over it." They hit balls often and then eventually got to the course to play rounds where Casey shot an 81. Casey credits his friend's help and says, "I really didn't start getting better until I had forgiveness in my heart."
"Dr. Terrell is a fantastic doctor and a great person. I was fortunate enough to have him put my right leg back together (literally) with an external fixator. He is the bone mechanic! If he's your doctor; you pretty much hit the lottery for orthopedic doctors! I did have anger and resentment for the driver that crashed into my vehicle but that wasn't allowing me to move forward. When my late friend Dick Maurer tells you to get up off your butt and get to work in a Boston accent he wasn't asking; so you grab your lunch pail and go to work. We used golf as therapy and we had putting duels, chipping/short game contests and finally as my health progressed it was off to the driving range and eventually playing rounds of golf. If not golf for therapy; then you can incorporate any physical activity you love into therapy."
There are so many things that impact the healing process. Hope, fear, depression, overall health all matters in recovery. Dr. Terrell says that a lot of times, the whole person needs to be treated, not just the x-ray!