Bryan Kumiga, D.O., MS
Specialties
Interventional Spine and Sport Physiatrist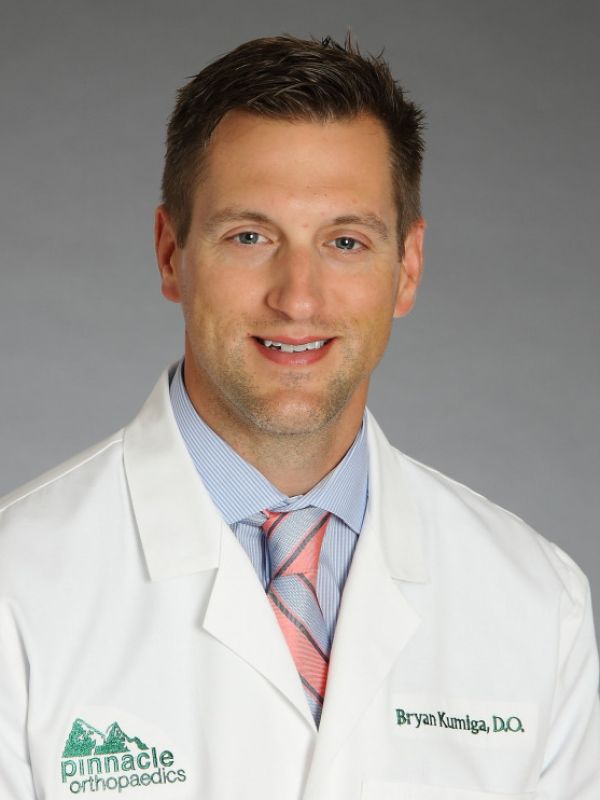 Dr. Kumiga is a Board Certified Physiatrist specializing in interventional spine treatments and non-operative treatment of the spine. Procedures performed by Dr. Kumiga include epidurals, facet joint and medial branch blocks, radiofrequency ablations, joint injections, and musculoskeletal ultrasound.
Dr. Kumiga received his Doctor of Osteopathic Medicine from New York College of Osteopathic Medicine. He also has a Masters in Biology from Long Island University and his Bachelor's degree from Radford University. Dr. Kumiga completed his residency in Physical Medicine and Rehabilitation at Long Beach Medical Center in New York and then completed an Interventional Spine Fellowship from the University of Massachusetts Medical School.
Prior to joining Pinnacle he spent time as a professor in the Orthopedic Department at University of Massachusetts Medical School as well the Neurosurgery Department at the Medical University of South Carolina. During his tenure he helped educate medical students as well as delivered lectures addressing spinal disorders to his medical colleagues.
Dr. Kumiga lives in East Cobb with his wife and two daughters. In his free time, he enjoys spending time with his family, playing golf and travelling.
Other Resources
American Osteopathic Board of Physical Medicine & Rehabilitation
Hospital Affiliations
Pinnacle Surgery Center Woodstock
Education & Training
Doctor of Osteopathic Medicine (2008)
New York College of Osteopathic Medicine
Old Westbury, New York
Master of Science in Biology (2004)
Long Island University
Brookville, New York
Bachelor of Science (2002)
Radford University
Radford, Virginia
Interventional Spine Fellowship (2013)
University of Massachusetts Medical School
Worcester, Massachusetts
Physical Medicine & Rehabilitation Residency (2012)
Long Beach Medical Center
Long Beach, New York
Traditional Rotating Osteopathic Internship (2009)
Long Beach Medical Center
Long Beach, New York
Professional Organizations
American Academy of Physical Medicine & Rehabilitation
American Osteopathic College of Physical Medicine and Rehabilitation
American Osteopathic Association
American Society of Interventional Pain Physicians
International Spine Intervention Society Member
Georgia Society of Interventional Pain Physicians
Georgia Orthopedic Society