Thanks for printing! Don't forget to come back to Pinnacle Orthopaedics for fresh articles!

John Koerner: Playing Golf Again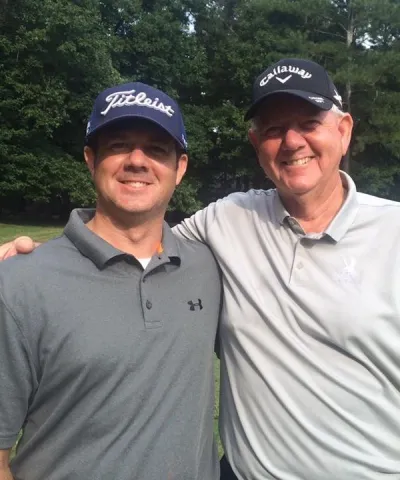 "What Dr. Valvani did for me has enabled me to play the Eagle Watch Member/Guest Golf Tournament for the past four years!" - John Koerner
In late 2014, John Koerner, came to Pinnacle after being seen by other doctors for low back pain. The other doctors said there was nothing that they could do. One physician even told him that he should get a new hobby and give up golf! Mr. Koerner met with Dr. Valvani and they discussed his treatment options and came up with a plan. He underwent a radiofrequency ablation for the arthritis in his back and also had an epidural. In January 2015, he was back on the golf course and was able to play golf 2 or 3 days a week for the next 3 1/2 Years.
In June of 2018, Mr. Koerner, began feeling pain again in his lower back. It was a sharp pain specifically when he was bending and swinging the club. He came back to see Dr. Valvani and an updated MRI was ordered. He was diagnosed with a spondylolisthesis, which is a slip in the alignment of the vertebrae, and a right lumbar radiculitis. This was not allowing him to swing a golf club. In August, he had one Lumbar Transforaminal Epidural. He is now pain free and back to playing golf 2 - 3 days a week with a handicap of 10! Mr. Koerner states that "if it weren't for Dr Valvani, I wouldn't be back on the golf course. He has done an outstanding job with my diagnosis and treatment. When I first came back to him in July, my wife and I were told that my insurance didn't cover this, which was actually incorrect. But before we found out that the procedure was covered, we had decided to pay for everything out of pocket and for a very good reason. Dr Valvani identified the problem before and he fixed it and we were not going to anyone other than him to fix it again! Also, according to my wife Lois, it saved our marriage, as she wanted me out of the house playing golf as well. Hahaha! Dr Valvani is top notch in my book and I consider him an outstanding physician and friend."