Surgeon Performs Procedure for Hip Replacements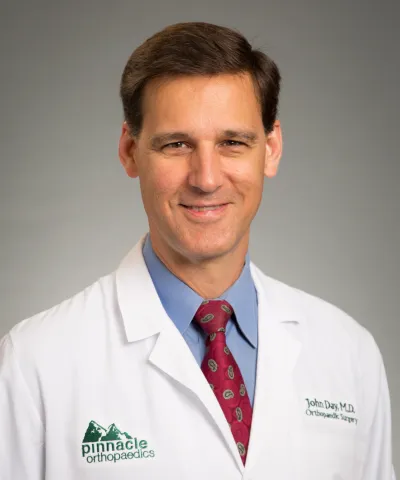 John Day, M.D.
Pinnacle Orthopaedics is excited to announce that Dr. John Day is now performing a new procedure for Total Hip Replacements. This procedure is called the Anterior Approach to Total Hip Replacement. This procedure allows the patient to be weight bearing almost immediately. There is less down time, less recovery time, less rehabilitation and the patient has fewer restrictions after the surgery. The procedure is a full hip replacement but the incision is smaller and done on the anterior side of the joint - opposite of the more traditional incision sites. It is the same procedure with less disruption to muscles and soft tissues that surround the joint. The smaller incision allows for less pain and quicker recovery time.
Hip replacements are very common and the causes for it vary. But the goal to replace the ball and socket of the hip joint and to improve quality of life is the same for everyone. With this procedure, patients can do that in less time than ever before.
The actual anterior approach is not a new surgery. Doctors have performed it for years. But what is new, is the instruments used to make smaller incisions to go around the tissues. These specialized tools make this surgery much less invasive and traumatic to patients. Also with these instruments, the incision is between the muscles, not removing the muscle and then reattaching as done in a posterior or a lateral approach.
Pinnacle Patient, Randall Beatty can tell the difference. He has had both hips replaced. The first one was done several years ago with the posterior approach. The second was done this year by the anterior approach. The difference was obvious to him when he was up and moving around the next day. "There was very little pain and limits to what I could do the next week. It was a good feeling to be able to have surgery one day and moving around the next."