Keith Anderson/Motorcycle Accident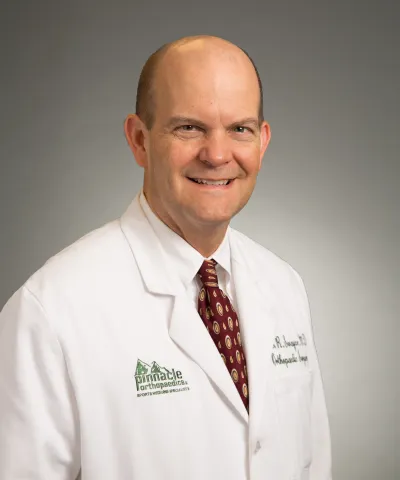 Alan Swayze, M.D.
Motorcycle Accident
On a beautiful April spring day, I was tooling along, enjoying the countryside, feeling the power of the motorcycle underneath the seat. I came to a stop behind a car that was making a left turn into a gas station. I was waiting with my foot on the ground when I was slammed from behind by a car that was going 45 miles per hour. I wondered why the stars were out in the middle of the day. Why can't I move my arms or legs? I must be dreaming. That's when the "fun" really started. In my 50 years, I have never been in an ambulance nor have I been a patient in the hospital. It's amazing how things can change in a split second.
I was bed bound for a while with five fractured ribs, a separated shoulder, three fractures in my pelvis, a dislocated shoulder, not to mention numerous bruises and cuts. During my hospital stay I was treated by Alan Swayze MD, one of the "Pinnacle Boys," as the nurses fondly call them. Surgery was needed to reattach the parts and after three years of hard work and excellent care I went from being confined to a bed to riding mountain bikes and enjoying the great outdoors again. Was it truly a miracle- or was it skillful care? I used to hate going to the orthopaedics office, because I knew pain would follow. I thought that they would never be able to make me whole again. I would have to learn new ways of doing things only half as good as I used to. I now know that if it wasn't for orthopaedics, I would still be crippled and not able to enjoy the full range of movement that it has afforded me today. I've learned so many medical terms I never wanted to know and how the different parts and pieces are connected internally.
I thank God for the knowledgeable professionals at Pinnacle Orthopaedics, especially Dr. Swayze. Don't forget the "fun" of physical therapy. I now know how to get up stairs without using legs. I also know that I didn't have it as bad as some, but it still hurt a lot and it took a lot of patience from everyone involved, especially my family. Pinnacle took the time to explain what to expect and displayed a confidence in their abilities which made me comfortable with their recommendations and actions.
I am Keith Anderson and three years after my recovery I still have something to prove. I took a motorcycle trip to Canada and back! Pinnacle got it right the first time.
"I went from being confined to a bed to riding mountain bikes and enjoying the great outdoors."