How Travel Contributes to Back Pain
We often hear about back injuries resulting from auto accidents. However, even without an accident, traveling extensively by car or plane can cause or aggravate back pain. But the good news is that you can follow some suggestions to make the next trip more comfortable, so when you arrive, you are ready to accomplish your plans!
If your pain is severe, then consider an evaluation by an orthopedic specialist at Pinnacle Orthopaedics. We are a team of specialists who can diagnose and treat your condition when it becomes intolerable.
For less severe injuries, you can find some easy-to-implement tips below:
Think Comfort From the Moment You Take a Seat
There are small steps you can take right away, such as removing keys or your wallet from your back pocket. Consider a seat cushion if that will make long travels more tolerable.
Think of your posture. This may mean sitting up straight, knees slightly higher than hips, and holding your head high so it aligns with your spine.
If you are driving, then sit a comfortable distance from the steering wheel. It's best to be about 10 inches away for safety if you were to get in an accident. Keep your hands on the 9 and 3 positions.
Also, keep your back in alignment with the seat using the comfort features of the seat or using a cushion or rolled towel. This may help support your lower back during long trips.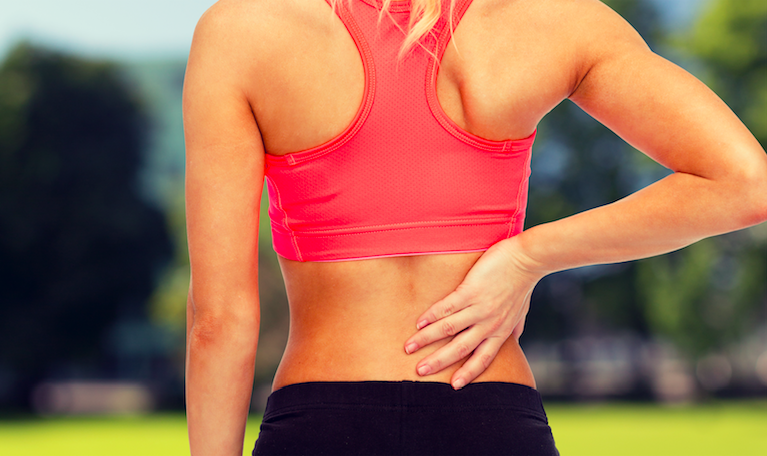 Try to Make the Drive Smooth
There are a few steps you can take to make the drive smooth and assist with comfort:
Ride in a passenger car rather than a truck

Replace worn shocks

Replace worn tires

Use a special cushion or pillow during car trips or flights
How Does Movement Help?
Taking breaks to move when you can is essential for comfort and circulation. Staying in one position too long can stiffen back muscles. Ideally, you should move around for 15 minutes for every 2 hours of sitting or driving.
You can take even more frequent breaks if you are prone to pain or discomfort.
The movement will help loosen muscles and get circulation moving in the body again.
Use Cold or Heat Therapy
People prone to back pain use cold or heat therapy when they travel and find it is helpful. Cold therapy can help with an inflammation that may be occurring in the area. Reusable ice packs are the best for use for this treatment option.
Heat therapy increases blood flow to the area, which will relax the muscles in the back. Good choices for heat therapy include thermal heat wraps or heat packs that you can reuse. It can also be an option to use the heated seats for some drivers to have a little heat for comfort when driving.
Both heat and cold therapy should be applied for 15-20 minutes every couple of hours.
Does Distraction Help with Pain?
Doing something to keep your mind off the pain can be helpful for some when traveling long distances. Some people find it beneficial to listen to podcasts, music, or an audiobook. Once lost in the distraction, many find they do not notice their pain.
Can I Take Medications?
Over-the-counter NSAIDS are OK to take for pain and help both with pain and swelling—for example, ibuprofen and aleve. Prescription medications need doctor permission, and you would need to follow their advice as to if it is safe to drive when taking anything prescription.
Where Can I Find out More About Back Pain or
Orthopedics Near Me
?
Our spine doctors work with you at Pinnacle Orthopedics clinic to develop a treatment plan to address your pain. You can feel confident in the care you receive. We can help you get your life back on track!
If you are suffering from back pain, then we have four convenient locations ready to serve you. Visit us at:
Contact us for an appointment or call with any questions you may have. We hope to meet you soon.
The material contained on this site is for informational purposes only and DOES NOT CONSTITUTE THE PROVIDING OF MEDICAL ADVICE, and is not intended to be a substitute for independent professional medical judgment, advice, diagnosis, or treatment. Always seek the advice of your physician or other qualified healthcare providers with any questions or concerns you may have regarding your health.