How to Manage Knee Pain While Traveling
Sitting in tight seats with little room to stretch can create stiffness and pain. Traveling with knee pain can significantly increase your symptoms.
Whether you have arthritis, a knee injury, or another painful knee condition, there are steps you can take to help you, so you are more comfortable while traveling.
How to Minimize Knee Pain When Traveling
Medication. If you use medication to manage your pain, take it before long trips. Over-the-counter pain medication such as Non-steroidal anti-inflammatories (ibuprofen or Aleve) can help to manage your pain as you travel.
Clothing. Make sure to dress comfortably for travel. The best choice is loose clothing and supportive shoes. You can even wear compression stockings to increase circulation, preventing blood clots.
Breaks. It helps if you can take breaks during travel, so you have the opportunity to walk and stretch. If you can take breaks, it can help with cramping and pain.
Stay mobile. If you are traveling by plane, do not sit for long periods. It helps to get up and walk frequently. This will help to avoid stiffness and cramping. It can also help with pain. Stretching while sitting can also be helpful. Try to reach out to touch your toes or slide your feet back and forth while sitting. Continuing to stretch for the duration of the trip can be helpful.
Leg room. Try to choose seats that offer more room, such as in first class or business class on airplanes. These options make it easier to stretch and walk around during long trips. If you cannot afford these options, choosing an aisle seat is a good option.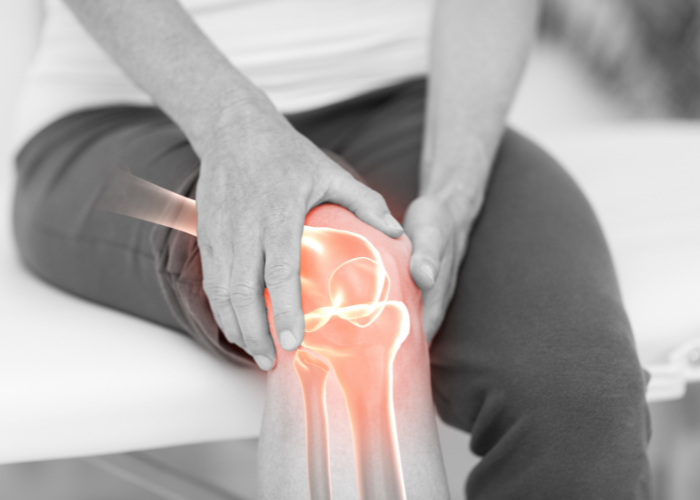 How to Prepare for Travel to Minimize Knee Pain
You can ask your orthopedic doctor about preventive treatments before you travel. They may suggest wearing a brace, compression stockings, or assistive devices. Your doctor may also be able to offer corticosteroid injections to help reduce pain before you travel.
Taking your prescription medication before and during travel is essential. You may want to take it about 30 minutes before travel, and be sure to keep it on hand if you need to take more medication later in your trip.
Icing or applying heat can be helpful. Though applying heat is not conducive when traveling, you can use a heating pad before or after travel for comfort. Breakable ice packs are easy to pack and can be used while traveling.
Speak with your physical therapist about exercises you can do before and during travel. Some examples may include leg lifts or pulling up on your heels to stretch the hamstrings. Your physical therapist can help you come up with a plan that works for you.
Where Can I Go to Get Treatment for My Knee Pain?
At Pinnacle Orthopaedic, no knee condition is too complicated for us to treat. Whether acute or chronic. Our orthopedic experts use up-to-date technology and surgical techniques, including robotic-assisted total knee replacement and the MACI knee procedure.
We believe in high-quality orthopedic care, so our specialists are fellowship-trained, focusing on a range of injuries acute to chronic. We pride ourselves in providing the best possible care for our patients and have five convenient locations for treating orthopaedic injuries, including:
Call or visit us today!
The material contained on this site is for informational purposes only and DOES NOT CONSTITUTE THE PROVIDING OF MEDICAL ADVICE, and is not intended to be a substitute for independent professional medical judgment, advice, diagnosis, or treatment. Always seek the advice of your physician or other qualified healthcare providers with any questions or concerns you may have regarding your health.