How To Know if You Have a Damaged Achilles Tendon?
The Achilles tendon, the largest tendon in the human anatomy, is found at the bottom of the calf. It consists of cords of fibrous tissue connecting the heel bone to the calf muscles. This musculoskeletal structure allows you to walk, run, and move.
An overuse injury to the Achilles tendon can lead to pain and discomfort. Our orthopedic doctors warn, however, that because patients can still walk and move their ankles despite the injury, delaying treatment can lead to worse outcomes and limited treatment options.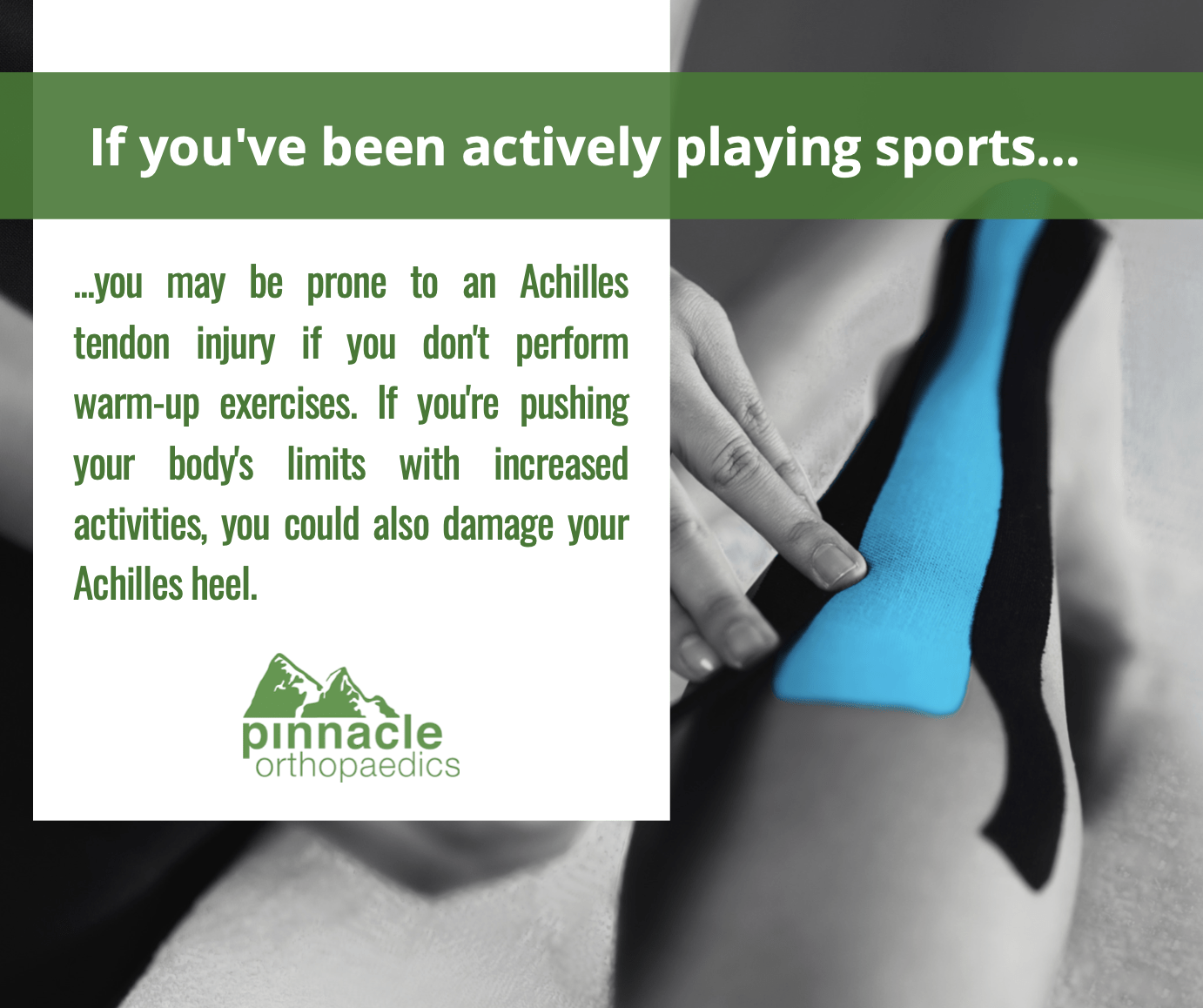 The danger of delaying treatment
A chronic rupture happens when treatment is delayed for more than a month. A study published in Clinics of Orthopedic Surgery has shown that false-negative Thompson tests account for 25% of neglected Achilles tendon ruptures. According to this study, a false-negative test result may happen when other muscles and tendons still allow plantar flexion in spite of the ruptured Achilles tendon.
A Thompson test is performed to determine if the Achilles tendon is ruptured. This is done by squeezing the calf muscles while the patient is kneeling or lying face down with feet hanging unsupported. Since the Achilles tendon connects the calf muscles to the heel bone, uninjured patients should involuntarily bend their foot toward their soles (plantar flexion) as the tendon contracts. If the tendon is completely ruptured, no flexion will be observed as the muscle is no longer connected to the foot, resulting in a positive Thompson test.
A false-negative test may also occur when the injury has healed on its own without proper medical or surgical management, or when treatment has been delayed.
So, how do you know if you've actually damaged your Achilles tendon?
Symptoms of Achilles Tendon Injury
There are cases when an Achilles tendon injury shows no signs or symptoms at all. However, most people usually experience the following physical indications:
A popping sound, indicating a rupture or damage

Swelling around the heel

Severe pain in the heel

Difficulty in bending the foot downward (plantarflexion)

Difficulty in standing, especially on the injured leg
If you've been actively playing sports, you're prone to an Achilles tendon injury if you don't perform warm-up exercises. If you're pushing your body's limits with increased activities, you could also damage your Achilles heel.
Wearing ill-fitting shoes, especially when doing intense physical activities that include the lower limbs, can predispose you to an Achilles tendon injury as well. These activities include basketball, cycling, diving, tennis, and track sports, as these put enormous stress on the tendon.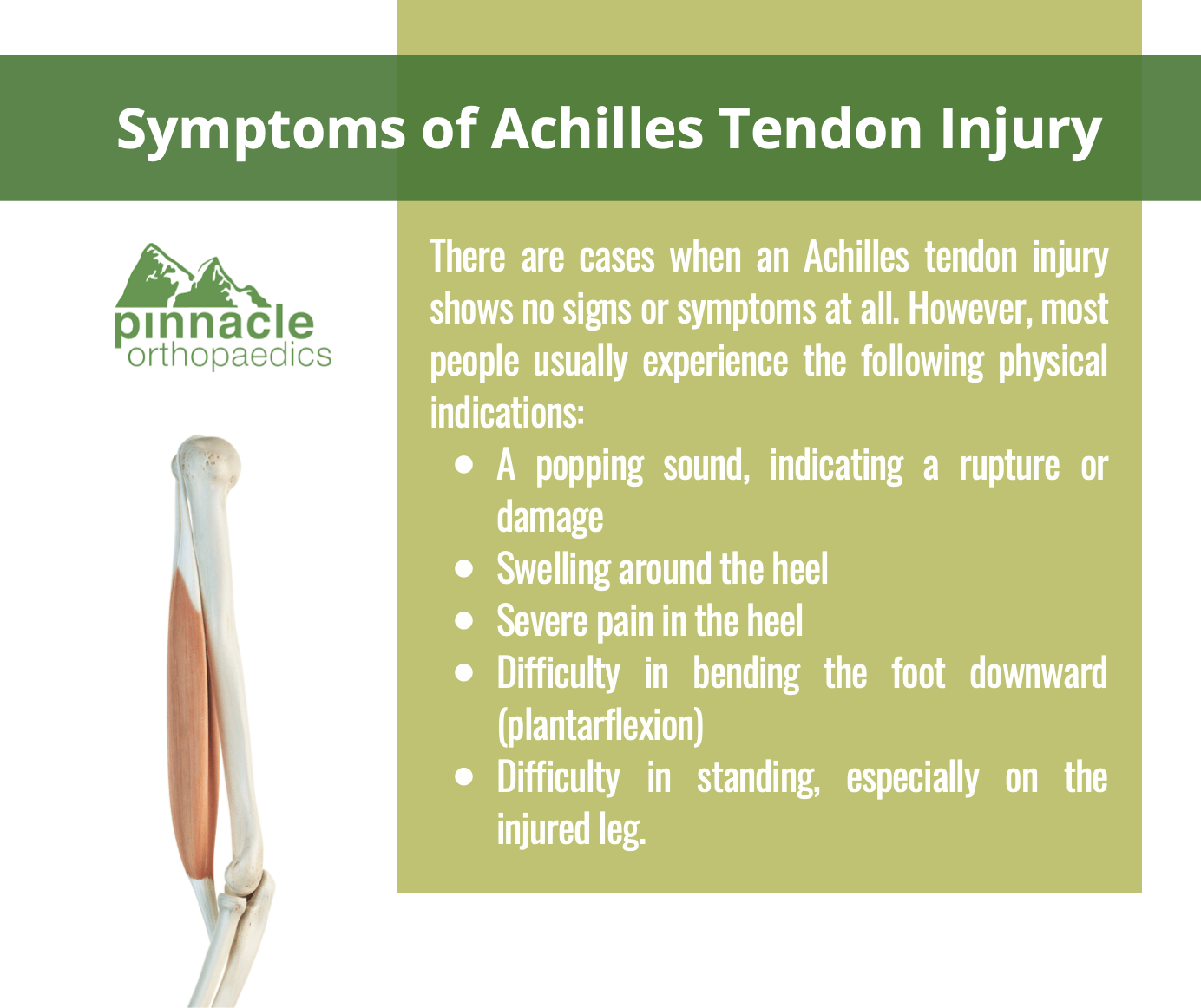 Risk Factors for Achilles Tendon Damage
Achilles tendon injuries are common among men between the ages of 30 to 40 and they are five times more common in male sports enthusiasts than female athletes.
Men who play basketball, soccer, and tennis have higher risks, compared to other sports, as their sports involve a lot of running and jumping with sudden acceleration and deceleration. Also, those who have excess weight may put extra strain on their tendon, so orthopedic doctors usually advise weight loss. Those who take steroid injections and certain antibiotics are predisposed.
The best thing to do if you are suspecting an Achilles tendon damage, especially after you've heard a pop, is to visit our foot doctor for an assessment.
Consult Pinnacle Orthopaedics specialists
At Pinnacle Orthopaedics, we use the most up-to-date technologies and surgical techniques to provide our patients with the highest quality of care. Our team of orthopedic doctors, physical therapists, and foot doctors have years of experience in handling various cases and have helped many patients return to their normal lives.
We are one with the community. Not only do our healthcare staff get involved in promoting awareness at numerous schools and sporting events, but they also provide exceptional orthopedic services at 5 convenient locations. With offices located in Canton, Hiram, Marietta (East Cobb), Marietta, and Woodstock and a Surgery Center in Woodstock, our services are very accessible.
If you still have any questions or wish to consult a member of our staff, please contact foot doctors at our various locations:
Canton: 770-345-5717

Hiram: 678-453-5717

Marietta: 770-499-9918

Woodstock: 770-926-6520.
Or inquire on our contact page.
The material contained on this site is for informational purposes only and DOES NOT CONSTITUTE THE PROVIDING OF MEDICAL ADVICE, and is not intended to be a substitute for independent professional medical judgment, advice, diagnosis, or treatment. Always seek the advice of your physician or other qualified healthcare providers with any questions or concerns you may have regarding your health.