Paul J. Payne, M.D.
Specialties
Non-Operative Orthopaedics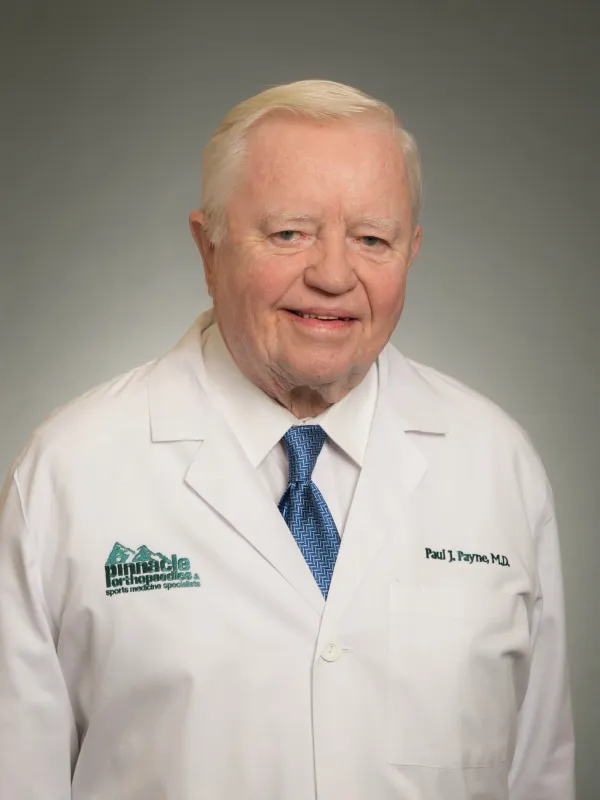 Paul J. Payne, M.D. is Pinnacle's longest-serving physician, having co-founded the practice in 1964, originally Marietta Orthopedics. Dr. Payne is a Board Certified Orthopaedic Surgeon now specializing in general orthopaedics and non-operative orthopaedics. His primary practice is located in Marietta, Georgia.
Dr. Payne was named the 2020 Philanthropist of the Year award by the WellStar Foundation for his passion and dedication to the healthcare community! The Foundation featured an interactive, virtual celebration for their annual Gala and presented Dr. Payne with this honor. Dr. Payne's generosity has enhanced the foundation's "vision for a stronger, healthier community every day."
Philanthropist of the Year: https://www.youtube.com/watch?v=vuDyvVMcC3k&list=PLnsuySf_-KCCHQcNFMfCjk6inHCiZs9X6&index=2
Dr. Payne is heavily involved in the local community, the state, and abroad. He has served as President of the Marietta Metro Rotary and the Urban League Board. He has also done mission work in various parts of the world. He has written many articles that have been featured in many publications. On the national level, Dr. Payne received the prestigious Physician of the Year Award for the State of Georgia in 2006. He is the past president of the Georgia Orthopaedic Society and the Atlanta Orthopaedic Society. He currently serves on the WellStar Kennestone Hospital Board and is President of the WellStar Hospital Authority.

Dr. Payne received his Doctor of Medicine Degree from The Medical College of Georgia, where he also completed his Orthopaedic Surgery Residency. He received his Undergraduate Degree from Maryville College in Tennessee and performed a General Surgery Internship at Erlanger Hospital in Chattanooga, Tennessee. Dr. Payne lives in Kennesaw, Georgia.
Other Resources
Hospital Affiliations
WellStar Kennestone Hospital
Marietta Surgical Center
Education & Training
Undergraduate Education
Maryville College
Maryville, Tennessee
Medical School
Doctor of Medicine
Medical College of Georgia
Augusta, Georgia
Certifications
American Board of Orthopaedic Surgery
Postgraduate Training
Internship
Erlanger Medical Center
Chattanooga, Tennessee
Orthopaedic Residency
Medical College of Georgia
Augusta, Georgia
Professional Organizations
American College of Surgeons
American College of Sports Medicine
American Academy of Orthopaedic Surgeons
American Medical Association
Atlanta Orthopaedic Society
Cobb Medical Society
Georgia Orthopaedic Society
Medical Association of Georgia